"Just the thing for readers who aren't scared of the dark
—or for those who are and like it."

—Publishers Weekly
"Thompson shines at using unexpected or multiple perspectives to breathe new life into conventional tales, with story endings that are surprising and skillfully foreshadowed. This balance between the unpredictable and the expected rewards rereading."

—Kirkus Reviews
"…a humorous and intriguing delve into flash fiction,
very much recommended."

—Midwest Book Review
"Excellent sick little work of art."

—A Kid's Review from Amazon.com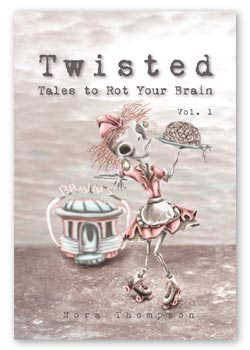 I've written and illustrated a book, and I've called it:
Twisted: Tales to Rot Your Brain Vol 1
It's a little twisted, as you can imagine, and it will probably do some damage to your brain, as you might expect.
The book collects together 28 flash fiction stories that target anybody who giggles when a story takes a surprising turn, from middle grade readers through their adult counterparts. The stories in the collection unfold using traditional text, illustrated text, text with illustrations, stand-alone illustrations and even a graphic novel.
And all of them lean toward the edge of the twisted. Told from unexpected perspectives. Not about what you thought they were. Head off in a direction you weren't counting on.
And here's hoping you never see it coming. Blindsided.
Time to giggle.