I've written and illustrated a book, and I've called it:
Twisted: Tales to Rot Your Brain Vol 1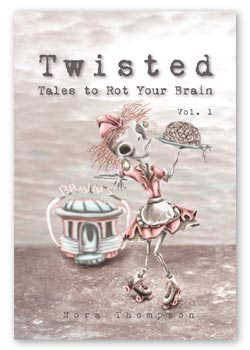 It's been getting some great reviews and even went and won itself a couple Purple Dragonfly Book Awards.
The cover is over there to the right, and you can watch the trailer for the book on this page.
Where do I go from here?
The book has gotten some great reviews (Publishers Weekly, Midwest Book Review and Kirkus Reviews, to drop a few names), and Kirkus Reviews even made it their Indie Spotlight Q&A!
Hopefully you have a twisted sense of humor, otherwise this relationship is probably already over. But seriously, if you're still here it probably means we're going to get along just fine.
Thanks a cryptload for reading this far, and come visit us on the dark side. We have cookies.